Bali and its endless beauty keeps tourist coming to the Island of the Gods, Bali, many beautiful beach destinations. The panorama of sunrise and sunset combined with white sand, waves and watersports are the attractions of this island of the gods so that many local tourists and foreign tourists make Bali a tourist destination because they want to enjoy water tourism in Bali..
There are not many places in Indonesia that offer many destinations for water tourism. Bali is one of the places in Indonesia that offers variety of water tourism. In addition to many water tourism destinations, the Island of the Gods is blessed with beautiful and enchanting natural scenery..
There is no denying that Bali is an ideal vacation place for tourists who are looking for a relaxing and soul-soothing atmosphere as well as tourists who want to vacation with their families and want to experience the water tourism in Bali..
We've also put together a list of water activities that you can do if you're on vacation in Bali. You are guaranteed to have a fun and unforgettable experience!.
Seabreacher
A thrilling sensation that you can feel under and above the surface of the water. Seabreacher is a combination of jet, submarine and jet ski with the shape of a marine mammal merged into one. Seabreacher is a watercraft with a cockpit that resembles a jet airplane that can reach high speeds of up to 80 km/h when on the water.
The Seabreacher can also dive below the water surface to a depth of 2 meters at a speed of 40 km/h..
Another exciting thing you can do and enjoy while riding this water ride is to challenge gravity by jumping 6 meters above the water surface. You don't have to worry about the safety of this ride, because in addition to the glass cover made of materials that resemble the F.6 fighter plane, it will always float. Your safety will be guaranteed if you ride Seabreacher..
Seabreacher is located at Serangan Watersports, Jl. Tukad Punggawa, Serangan, South Denpasar, Denpasar, Bali 90229
Price around Rp900,000 – Rp1,000,000 for 15 – 20 minutes.
Scuba Diving & Snorkeling
Diving and snorkeling are activities to explore the natural underwater life to get a close look at coral reefs, fish, plankton, seaweed, and other underwater life. Scuba diving and snorkeling, although both are underwater activities, but have many differences as follows:
Depth difference
The most basic difference between snorkeling and scuba diving is the depth at which you dive underwater. Snorkeling is done at the surface of the water with a depth of 1-3 meters while scuba diving is done at a depth of 200 – 300 meters or even more. When snorkeling we have to hold our breath to be underwater for a long time, in contrast to scuba diving which can stay in the water for a long time this is because diving is equipped with more complete equipment.
Equipment differences
Scuba diving certainly uses more complete and complex tools compared to snorkeling. When snorkeling you only need diving glassess and snorkel as a breathing apparatus. Meanwhile to do scuba diving requires a variety of equipment such as diving glassess, hoses, oxygen cylinders, diving suits, and frog legs.
The difference between technique and training
For snorkeling you don't need any special techniques or training to do it because this activity is only done on the surface of the water. Unlike scuba diving you need to do special training to master breathing techniques or how to regulate oxygen while underwater..
One of the best diving spots in Bali is in Tulamben. Tulamben is the best place to dive in Bali with crystal clear waters and incredible underwater beauty. If you dive in Tulamben you can see and enjoy a wide variety of coral reefs and other marine life..
In Tulamben, besides you can enjoy the beauty of coral reefs and marine life, you can also enjoy the beauty of the USAT Liberty Wreck which is the wreck of an American warship that sank about 50 years ago. If you want to dive while looking at the Liberty shipwreck in Tulamben you can dive at a depth of 30 meters at this depth you can clearly see the USAT Liberty shipwreck besides that you can also see various types of fish roam in the USAT Liberty shipwreck area. Around October – November is the best time to dive at the USAT Liberty ship site..
How? Are you interested in diving and snorkeling in Tulamben?
If you are interested in diving and snorkeling in the Tulamben area you can contact Tulamben Scuba at Tulamben Scuba official website to make a reservation in advance. Tulamben Scuba has programs for beginners and you can also get training and certificates through Tulamben Scuba. Here is the list of programs from Tulamben Scuba:
.For more information about scuba diving and snorkeling with Tulamben Scuba you can visit Tulamben Scuba official website.
Tulamben is a must-do destination if you want to enjoy the beauty of the underwater world. Book now and make an unforgettable diving experience with Tulamben Scuba.
Aling-Aling Waterfall
At Aling-Aling Waterfall you can slide down a natural slide. This waterfall is the perfect place for true adventurers, as it is less crowded with tourists than other waterfalls in Bali. Access for you to Aling-Aling Waterfall you have to hike to get to the location and along the way you hike you will be treated to amazingly beautiful natural scenery..
The waterfall is 35 meters high and surrounded by dense trees. The water flowing from the peak is divided into two streams..
Aling-Aling Waterfall is located in Sambangan Village, North of Bali which takes about 3 hours to reach if you are in Denpasar. For the price you will have to negotiate with a local guide. The normal price is around Rp125,000..
Whitewater Rafting on Ayung River
Ayung River in Ubud is the longest river in Bali and has an enchanting beauty around the river many green trees and unique natural stone walls.
The way to enjoy the Ayung River is by conquering the swift current of the river and enjoying the scenery presented by the Ayung River, guaranteed to be exciting and unforgettable!
.
If you've never done rafting before, don't worry because rafting on the Ayung River is safe enough for beginners with friendly guides who will teach you how to control the rubber boat.
Location: Kedewatan, Ubud, Bali
Operating hours: 07.00 AM – 10.00 PM
Price: starts from Rp340,000/person with minimum booking for 2 persons.
Flyboarding.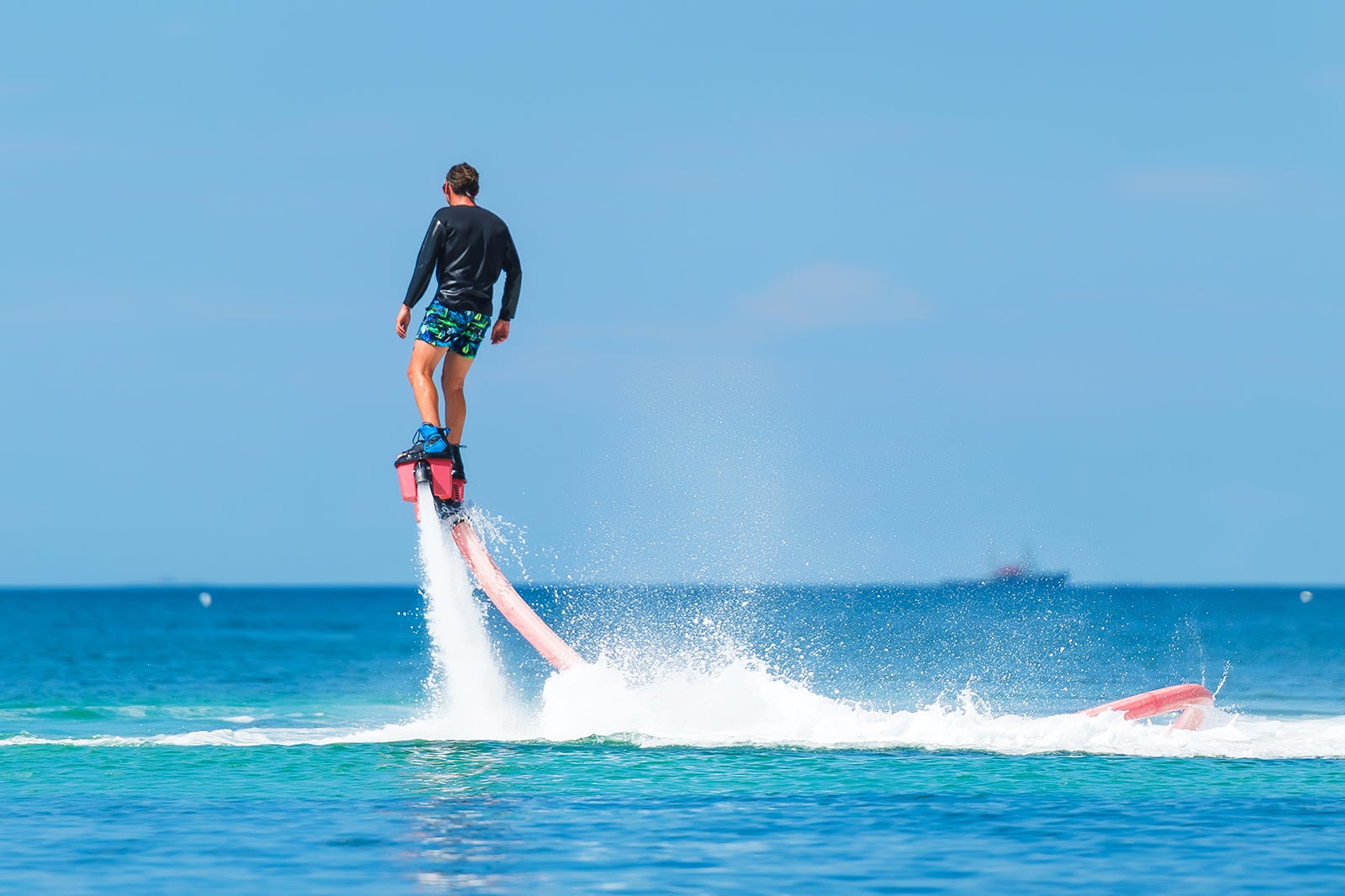 Flyboarding activities in Bali use a tool called a flyboard. Flyboard is a water rocket connected to a jet ski-like device that provides thrust for the flyboard user. This ride works the same way as a jet ski but the flyboard jet nozzles are mounted on specially designed shoes. The water jets from the shoes allow you to fly above the surface of the water..
If you're on a flyboard, you'll be wearing water jet shoes, which are connected to a jet ski using a hose. This water hose pushes water from underneath your shoes, allowing you to fly up to 10 meters. After flying you have to hold your balance.
For now, Flyboarding locations in Bali are available in two areas, namely at Sanur Beach and Tanjung Benoa Bali.
Flyingboarding prices in Bali start from Rp550,000 – Rp950,000 / person.
Sea Walker
Sea walker activity is an activity of walking on the seabed using a waterproof helmet. Sea walker is an underwater activity for those who want to see the beauty underwater but do not have diving experience..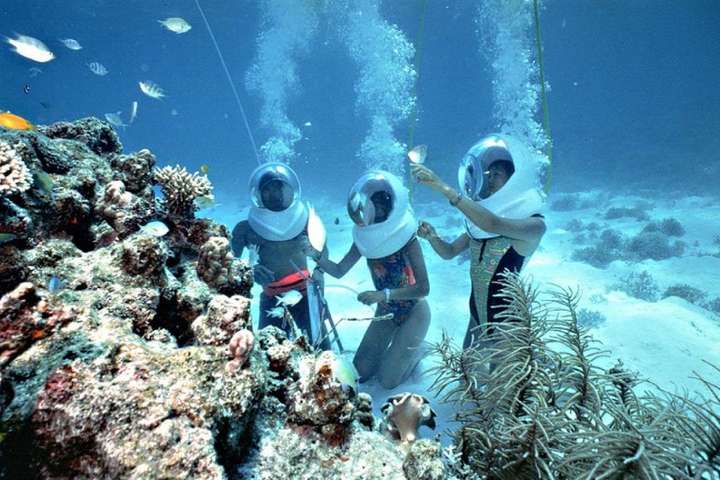 Walking on the seabed will certainly be very different from on land. When you are doing this activity you will be wearing a helmet with clear glass that is waterproof. The helmet is supplied with pure oxygen, for your breathing while walking on the seabed. Oxygen flows through the air hose on the helmet you are wearing. The way you breathe is the same as if you were breathing on land.
This sea walker activity is available at Sanur Beach Bali and Tanjung Benoa.
Price for sea walker Rp800,000/person.
Glass Bottom Boat & Turtle Island

.
Tanjung Benoa Bali is a famous water tourism destination in Bali as a water sport activity. Bali Turtle Island is a green turtle breeding site located in the tourist attraction of Tanjung Benoa Bali. The management of this green turtle breeding is carried out by the people of Tanjung Benoa who previously worked as fisherman..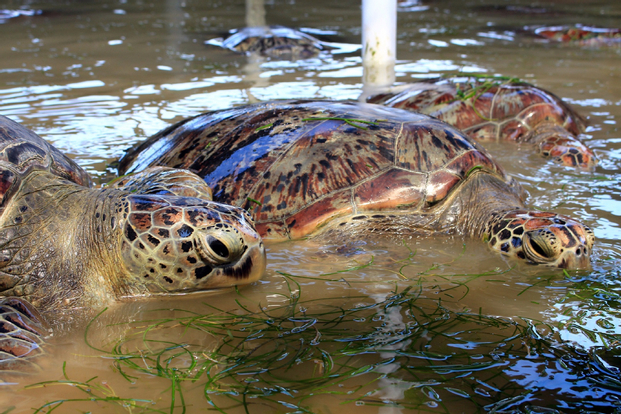 On Turtle Island, besides you can see green turtles, you can also see other animals such as pythons, birds, and many more animals in this green turtle breeding..
This turtle island is a suitable tourist destination if you are on vacation with family and children. For access to Turtle Island, you can ride a glass bottom boat with a maximum capacity of 9 passengers with translucent glass. With this glass bottom boat, you can enjoy the underwater scenery during the trip.
The entrance ticket price for Turtle Island is IDR10,000/person for adults and IDR5,000/person for children under 10 years old.
Glass bottom boat charter price IDR 500,000 / boat.
Diamond Beach Nusa Penida
Diamond Beach is a stunning hidden beach located at the bottom of a cliff at the eastern end of Nusa Penida Island. Access to the island you must use a speed boat with the route Sanur – Banjar Nyuh and the trip continues by using a motorbike or car that can be rented at Banjar Nyuh Port with a travel time of about 45 minutes..
Even though it is located far away, but when you arrive at the place everything will be paid off with a beautiful view. The blue sea, white sand, palm trees, and high cliffs add to the beautiful atmosphere at Diamond Beach..
The photo object that is usually done by tourists is the stairs that take visitors to the beach..
For the price of the entrance ticket to Diamond Beach is IDR 10,000 / person and for parking fees IDR 5,000 / motorcycle and IDR 10,000 / car..
Sekumpul Waterfall

.
If you like to explore waterfalls in the destinations you visit Sekumpul Waterfall must be one of your tourist destinations if you vacation to Bali, because of the many waterfalls in Bali Sekumpul Waterfall is the most famous waterfall..
To get to the location of Sekumpul Waterfall from Southern Bali you need about 2.5 hours. The location of this tourist attraction is in the North Bali area. The main attraction of this tourist attraction is the beautiful natural scenery around the waterfall. Visitors will see 2 twin waterfalls side by side with a height of about 50 meters..
The entrance ticket of Sekumpul Waterfall is IDR 10,000/person for local tourists and IDR 20,000/person for foreign tourists..
Mahana Point Cliff Jump

.
Mahana Point is a small bar on the cliffs of Nusa Ceningan Island that gives visitors opportunity to try jumping off the cliff and plunging directly into the sea. Here you will be invited to plunge directly into the open sea from the top of the cliff with a height of 10 meters above sea level..
Every tourist who wants to try the activity will be provided with a vest. If you're not brave enough for the 10-meter height, you can also choose a jumping point with a lower height of 5 meters. The open ocean with a depth of 3 – 4 meters is your landing place at Mahana Point Cliff. After you jump in, the tour manager will pull you up with a rope..
The management also pays attention to weather conditions. If the weather is bad with high waves no tourists will be allowed to try this activity..
For a cliff jumping activity at Mahana Point that you will never forget you have to pay a rate of Rp25,000 / 1 jump with a height of 5 meters and Rp.50,000 / 1 jump for a jump point of 10 meters.
Mahana Point is located at Jl. Raya Ceningan, Dusun Ceningan Kawan, Nusa Lembongan, Bali 80771.
Operating hours 07.00 WITA – 21.30 WITA.
How? Are you interested in making Bali a vacation destination for you and your family? In addition to the many water attractions that you can visit in Bali, you can also enjoy the natural beauty given by the Island of the Gods and you can also visit the other tourist attractions that provide a memorable experience if you are on vacation in Bali..