The island of Bali is not only famous for art and culture, Bali also has a beautiful underwater beauty that makes divers fascinated with the underwater beauty in Bali. Diving is one of the most fun activities to do under the sea because we can clearly see the beautiful and amazing underwater scenery. There are many places that can be used as dive sites in Bali. Even in some tourist attractions in Bali there are the best diving spots in Bali because it has a beautiful underwater charm.
Here are recommendations for diving spots in Bali that you can visit:
Menjangan Island
If you depart from Denpasar, Menjangan Island is a little far away. It takes 3-4 hours to get to Menjangan Island, you have to head west and through the Kabupaten Negara first. Menjangan Island is located in Teluk Terima, precisely in the West Bali National Park. Menjangan Island is the best spot for diving in Buleleng Regency.
Menjangan Island is also famous for its wall diving activities. Wall diving is a type of diving activity at depth by following the underwater cliff lane. The sea cliffs on Menjangan Island have a depth of 20 to 60 meters.
In addition, on Menjangan Island you can see reefs with depths ranging from 10 meters. You will find many gorgonial fanfish. The waters are quite calm so your visibility can reach 50 meters in good weather conditions.
On the seabed of this island there are species of barrel sponges and large sea fans. The depths are also home to species of tuna, schools of jackfish, batfish, angelfish, sea turtles and sharks.
Tulamben Bali
Tulamben is a small village located in the northeast of the island of Bali. If departing from Kuta Bali area, the distance to be taken is about 102 km with a travel time of approximately 3 hours. With the development of Indonesian tourism, especially Bali, it is very helpful for the progress of Tulamben village.
For those of you who like diving and snorkeling, Tulamben is one of the diving spots in Bali that you must visit. Tulamben has its own uniqueness. The uniqueness in Tulamben is the USAT (US Army Transport) Liberty ship which sank in 1942 due to the 2nd world war. The wreck of the USAT Liberty is at a depth of 30 meters above sea level and this is the best diving spot in Tulamben.
Because the shipwreck has been in the sea for so long that all the hulls have rusted. In the USAT Liberty ship area, apart from seeing wrecks, divers can also see other underwater life. Various other marine life such as coral reefs, ornamental fish, plankton, seaweed, and so on.
Tulamben must be one of your tourist destinations if you visit Bali. If you are interested in diving and snorkeling in the Tulamben Area, Tulamben Scuba is the best choice to accompany you diving and snorkeling. You can contact Tulamben Scuba on the official Tulamben Scuba website to make a reservation in advance.
Tulamben Scuba has programs for beginners to professionals. You can get training and certificates through Tulamben Scuba. Here is a list of programs from Tulamben Scuba:
For more information about scuba diving and snorkeling with Tulamben Scuba you can
contact us here.
Book now and make an unforgettable diving & snorkeling experience with Tulamben Scuba.
Pemuteran Beach
Pemuteran Beach is the best coral reef sanctuary in the world. This beach is located in a coastal area in the northwest of Bali, it offers a quiet and peaceful place to escape the hustle and bustle of the city. Pemuteran Beach has a beautiful underwater beauty, this place is a suitable place for diving and snorkeling.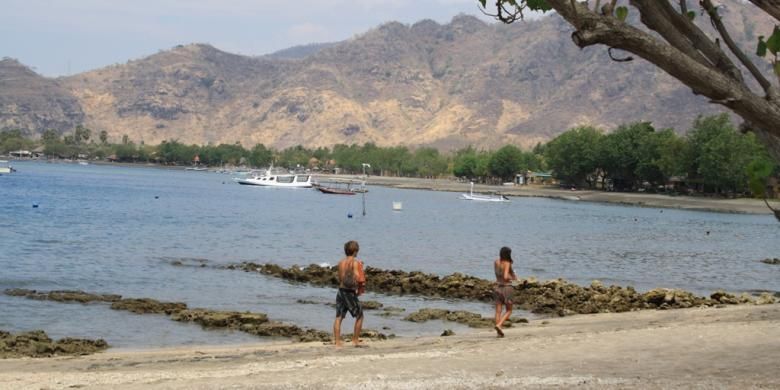 Pemuteran Beach is located in Singaraja Regency. It is about 30 km from Gilimanuk Harbor or about 55 km from Denpasar.
The most interesting part of Pemuteran Beach is its underwater beauty. Under the sea of Pemuteran Beach there is an amazing underwater temple. This site became the world's attention in 2010 when divers entered the gates of the underwater temple which was taken by Photographer Paul M Turley from England which spread on social media, especially twitter and the internet.
Activities that you can do are snorkeling and diving. When doing snorkeling activities here you can see table corals, lionfish, and lobsters. When you dive on this beach you will find 80% of coral reef species and explore other underwater beauty because it has clear water.
Crystal Bay
Crystal Bay is a beautiful beach on the island of Nusa Penida, Bali. Crystal Bay is also a place that is famous for its beautiful sunsets and this beach is a famous place for diving and snorkeling.
Crystal Bay is one of the best diving and snorkeling spots in Nusa Penida. Here you can find coral reefs and marine life. You can also see turtles. But if you do diving or snorkeling here you have to be careful because the currents can be very strong.
Crystal Bay is also one of the most famous diving spots on the island of Nusa Penida Bali during the summer, because there is a pelung to see the famous Mola Mola. If you come face